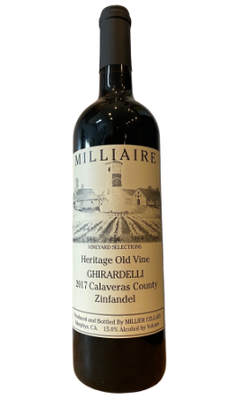 Rich, jammy, & smooth, this Zinfandel is from an almost 120 year old vineyard in Calaveras County. Layered with complexities, this wine can be sipped on the couch or enjoyed with a variety of meals.
Wine Specs
Appellation
Calaveras County
Product Reviews
Norm Ishimoto
(Jul 4, 2023 at 11:32 AM)
We actually took a 2012 bottle of this O.V. to a party last night; now, restocking. Our dear friends were retired diplomat+internationally famous Chinese writer-playwright wife, and their friends a noted Chinese couple: poet and artist wife of international repute in SF en route to a conference in Canada. Everyone loved this O.V. Zin! Their rave reviews, in 3 dialects, I could not begin to translate! Plus they loved the Milliare back story, too long to tell here. I have to disclose: I have known A.G. since 1972, when I moved to CA and thought something pronounced 'mat00sh' was also wine. Ah, did I age well!