Clockspring Vineyards
The first time I met Clockspring Vineyard owner Frank Alviso was during the 1978 harvest. Frank was delivering a load of Zin grapes to the David Bruce Winery in the Santa Cruz Mountains, where I was the winemaker. Frank's grape truck was jackknifed on serpentine Bear Creek Road, and we worked together to bring the load safely into the winery. That was the beginning of a very satisfying vineyard-winery partnership.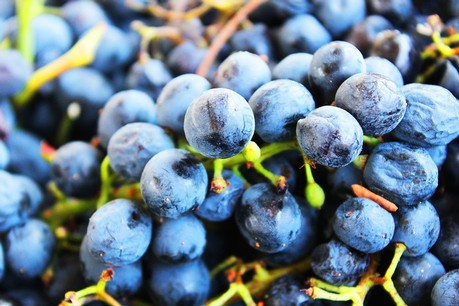 In 1982 I moved to Stevenot Winery in Murphys, and for the next eight harvests I made White Zin from Clockspring Vineyards. While not an artistic challenge for the winemaker, White Zin was nevertheless a cash flow boon for wineries at that time. Fortunately, I was also able to make some outstanding red wines from Clockspring grapes while winemaker at Stevenot. The 1983 Zin received a Double Gold from the Orange County Fair. The 1986 Clockspring Late Harvest won a gold medal at the California State Fair, and was also named most outstanding wine of the Sierra Foothills region.
Frank Alviso also enabled me to reach a personal milestone, establishing my own winery. When I received my enology degree in 1975, it was my goal to start my own winery by my 35th birthday in 1983.
The 1983 harvest was cursed by unseasonable early rains, making conditions abysmal. I remember harvesting Cabernet in the rain of October 28, 1983, my 35th birthday. There were no winery prospects in sight, it was pretty grim.
In the midst of this gloom, Frank called to see if I might be interested in his Cabernet Sauvignon. I accepted wholeheartedly, and that Cabernet was the start of Milliaire Winery in 1983, the year I turned 35. Clockspring has a very limited planting of Cab, which was actually planted by mistake. That mistaken planting of Cab has brought great success to my winery.
The Clockspring Vineyard is located in the Shenandoah Valley of Amador County, established in the early 1970's by Frank Alviso and his business partner John Hahn. John and Frank met and were college roommates at Stanford. Clockspring Vineyard encompasses 400 acres of planted grapes and has many different vineyard sites and microclimates. Clockspring Vineyard is the largest grower of Zinfandel in Amador County and is Certified Organic.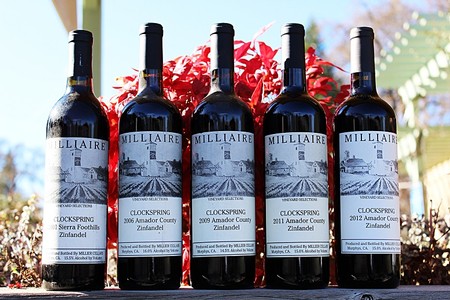 Clockspring Vineyard is synonymous with Amador County Zinfandel. We have made some outstanding big Zins from this vineyard. We have also made some other wonderful wines from this vineyard. We produce a Muscat Canelli, which we call Catherine's Cuvee, Syrah, Primitivo, and Port. Every year we still make two barrels of Cabernet Sauvignon from those 400 vines that were mistakenly planted 40 years ago.
The 2013 harvest marked 35 years of making wine from Clockspring Vineyard. Each year has been a challenge and an education. Each year the winery and wine lovers have been rewarded with outstanding wines.