Where it all began...

By Liz Millier
"We balance each other, each partner brings their energy and talent to the winery. We discuss every detail of winemaking and share all the ups and downs of the creative process." - Steve Millier
It was October 4, 1975 in Santa Cruz and Steve was attending a dinner for local winemakers on the eve of the David Bruce Chardonnay harvest. This was the night where Steve and I met. I graduated from Santa Clara University with a history degree, but had an interest in wine and food. Before long I was hired to work in the office at David Bruce Winery.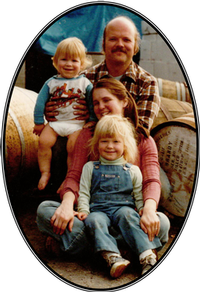 This began our lifelong partnership as husband and wife, and winery owners. During our time at David Bruce, a daughter, Catherine, and son, Robert, were born. From their earliest years both Catherine and Robert have grown up in the wine business.

After seven years of mastering his craft at David Bruce, Steve was offered the winemaking job at the new Stevenot Winery in Murphys. This opportunity began our love affair with the Sierra Foothills. It was vastly different territory going from Santa Cruz's misty coastal mountains to Murphys' oak and conifer forests. Steve began exploring the many beauties of Zinfandel. During his time at Stevenot, he worked to supply the newly emerging White Zinfandel trend. A tradition which he continues today with our "Christmas Cuvee" made in a Rosé style. He also continued to make vineyard designated Zinfandel and Late Harvest. At Stevenot, Steve's 1986 Late Harvest Zinfandel from Clockspring Vineyards won the inaugural Best of Sierra Foothills Region award at the revitalized 1988 California State Fair.